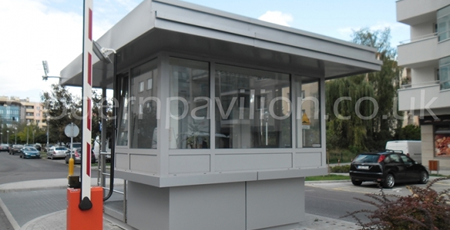 Modern Finishes & Styles
Extraordinary Modular Gatehouses, at an Affordable Price...
Our Gatehouses are built using a system of high quality, lightweight construction 'sandwich' panels at our factory and can be installed for immediate use.
Ideal for Security, Car Parks, Modern Housing Estates, etc.
Mobile and Modular
Full Range of Finishes
Thermally Efficient.
Low Maintenance.
Gatehouses (Guard Houses, Watchmen's Lodges or Guardrooms) are mobile and modular, so not only can they be moved to a different location, they can also be expanded! You can also have access points for monitoring systems, traffic lights or a barrier, even a toilet module installed.
We provide a large range of tiled and painted finishes, for both the exterior and interior.
The panels we use to make these units are very well insulated, reducing the costs of heating in the winter.
Our Gatehouse units not only look fantastic, they are very low maintenance and last for years.
For more details either fill out the form or call us on 01782 561 110