Description
KC CABINS SOLUTIONS LTD
MODULAR SYSTEM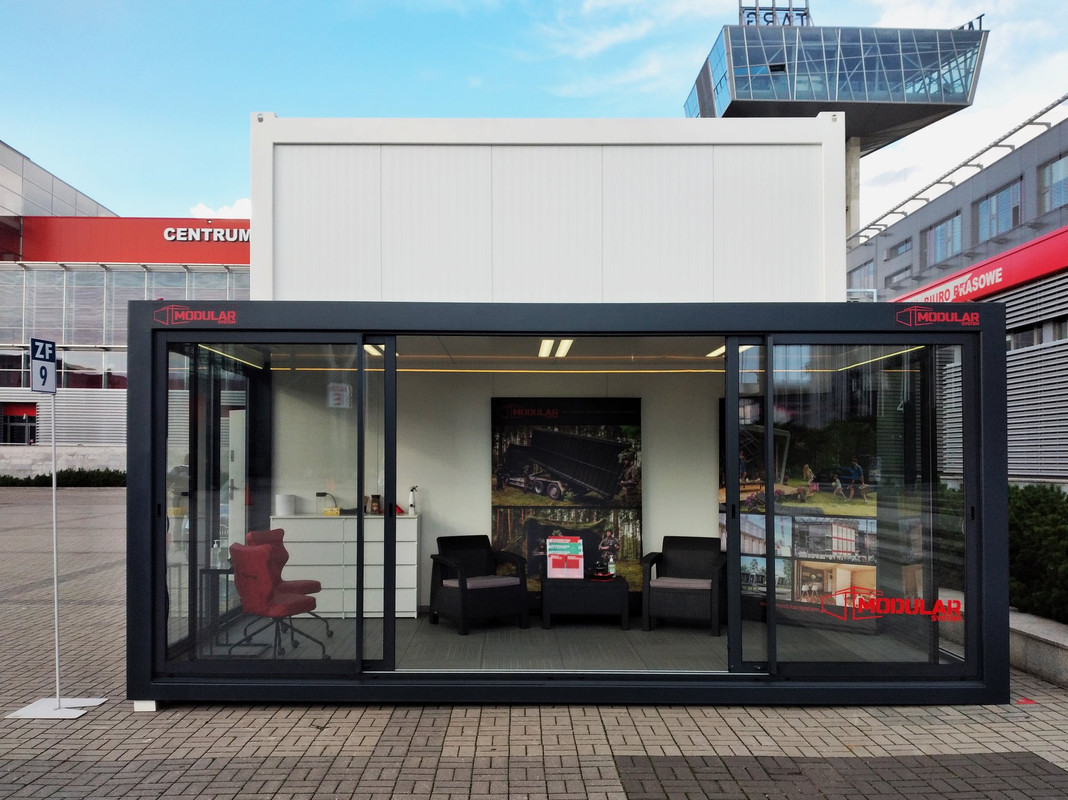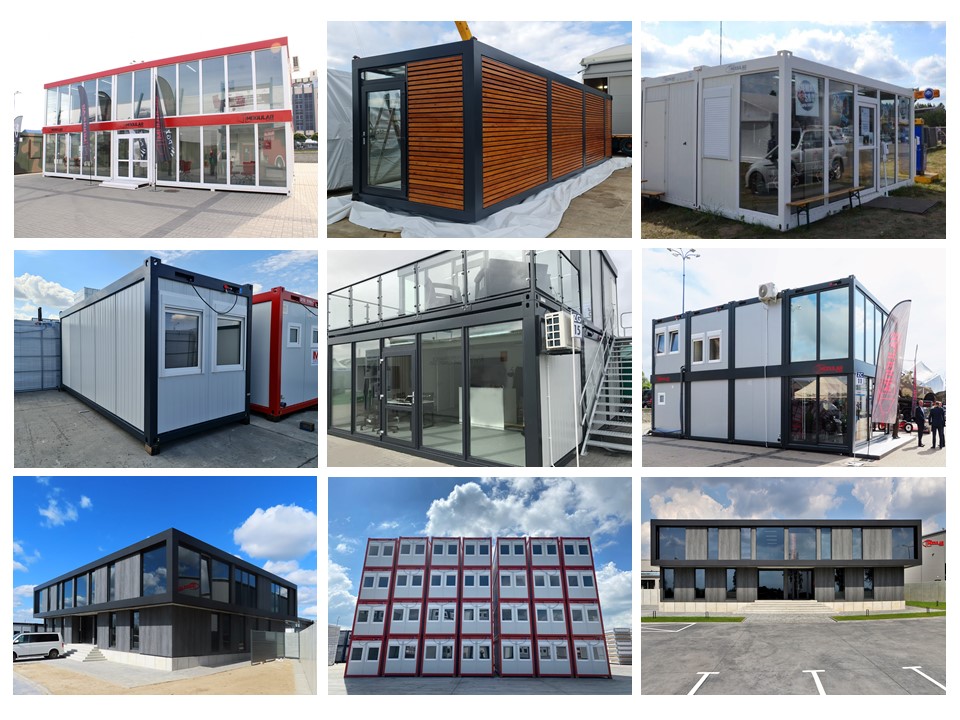 Modular building in open-plan; as seen in the layout drawing at the top of the auction
PRICE DOES NOT INCLUDE
Hi-ab crane

Delivery

VAT

Extras

Sidewalls windows are considered extras and are not included in the price

Concrete blocks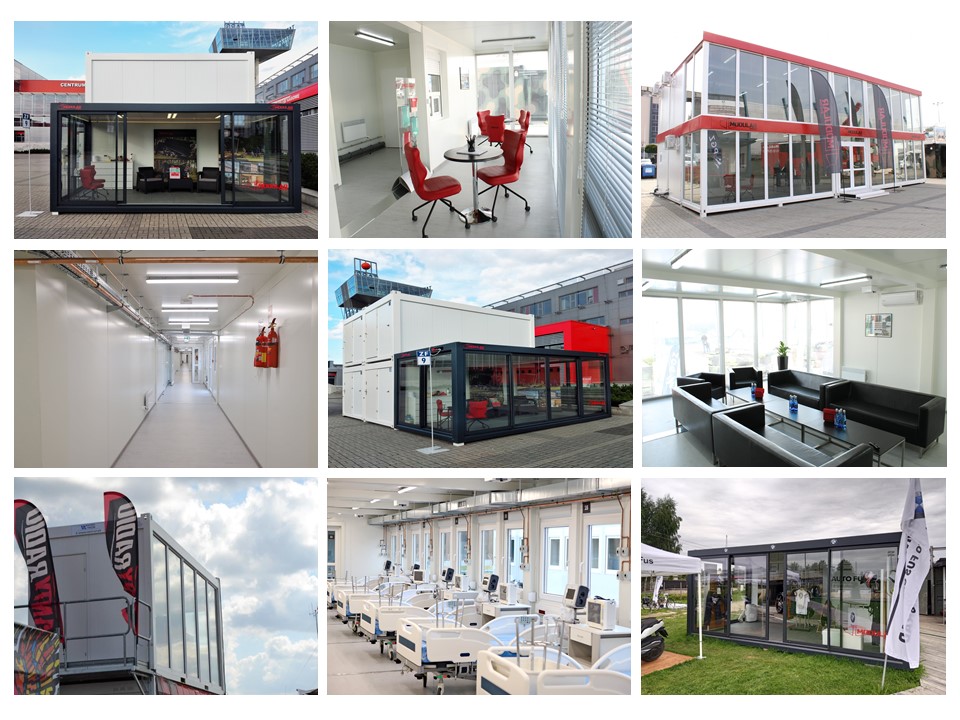 STANDARD OFFICE CONTAINER MB20(SH) WITH GLASS FRONT
SPECIFICATION
The advertised price does not include VAT
(prices are subject to change due to
material cost changes)
Please Contact Us For
Further Details, Product Description and or Lead Time
Side glassed windows are not included in the price
Please contact us for more details
Dimensions

– external dimensions: 6058x2438x2800mm

– internal height: 2500mm

Frame

– container steel construction in the EXC2 class according to PN EN 1090-1, made of cold-bended profiles, joined by welding according to PN EN ISO 3834-2. The product has CE marking, – steel frame abrasive blast cleaned to Sa 2.5 according to PN EN ISO 8501 -1 in a closed blasting chamber, spray-painted in a spray booth and dried in a cabin-dryer,- transport handles (according to ISO standards) located in the corners

Roof

– layered roof: * 0.55 mm steel galvanized sheet, * 10 mm chipboard, * 80mm mineral wool insulation, * vapour barrier made of polyethylene film, * 12 mm laminated chipboard, – no gutter system, drainage of rainwater through the walls
Walls

– interchangeable composite panels: * wooden framework. * from the outside, 0.55 mm trapezoidal sheet, galvanized, painted, * 60 mm mineral wool insulation, * polyethylene film, * on the inside 12 mm laminated chipboard, white,

Floor

– layered floor:
* floor finish: 1,5 mm PVC floor lining, gray – welded at joints + PVC floor strips, grey,
* 22 mm PS chipboard,
* polyethylene film,
* 60 mm mineral wool insulation,
* 0.5 mm galvanized corrugated sheet with low profile rib height,

Door

– steel, single-door, dimensions: 900 mm x 2000 mm (according to the drawing), thermally insulated, equipped with a lock, lock cylinder + 3 keys, signboards, door handle
| | |
| --- | --- |
| Window | – PVC, tilt-turn, (and/or according to the drawing), – insulated glass units with U = 1,1 W/m2K |
| Electrical system | – electrical, flush-mounted instalation (covered), – 8MOD circuit breaker panel (switchgear), – power system: 230V sockets (according to the drawing), – lighting system: fluorescent luminaries, IP65 protection class. with 2x16W LED lamps (according to the drawing), – external connection of the installation based on a 5x32A socket and power plug, – earthing of the container frame by means of a wire fastened with an M10 screw |
| | |
| --- | --- |
| Heating | – convector electric heater (according to the drawing) |

Further details
---
Warranty – 24 months.
The lead time – the lead time varies depending on the chosen structure and a number of different factors. Please contact us for more details.
Contact us
---
We can be contacted at any time through eBay messages if you have any questions, comments, or product requests.
We will respond to you within 24 hours and do our best to help you out! We encourage you to contact us with any questions or concerns!
We'd like to be sure you are completely satisfied with your purchase.